---
The End Is Near
The end of Heritage Middle School, that is. The last hurrah of the Knights. The striking of the colors.
At the end of the 2007-2008 school year, Heritage Middle School will close its doors forever. When those doors reopen in the fall of 2008, the building will have been converted into an upper elementary. Where will the middle schoolers be? Across the parking lot in the former Northridge High School. Where will the high schoolers be? Down the hill in the new Northridge High School.
If you missed this memo, you aren't the only one. I stumbled on the news in the course of a nostalgic return to Elkhart County via Wikimapia, and it made me feel instantly old. After all, I was there when Heritage-the-building still had that new-car smell, and Heritage-the-institution was a new casting cooling in the mold carved by Jim Galt. I wasn't keen to hear that while I was looking the other way, Heritage-the-institution had reached the end of its product life cycle and Heritage-the-building had been slated for recycling.
Mind you, I come to this with a (time-)warped perspective. The elementary school I attended was built in 1924, and it's still open for business I just may be out of step with the zeitgeist when it comes to the value placed on continuity and tradition.
If there's a villain in this story, it's growth. To someone who's been away for a while, the new development revealed on Wikimapia is startling. Elkhart County's population jumped by more than 26% between 1990 and 2007. Over the last 20 years, Elkhart has been creeping down US 33 toward Goshen and along US 20.toward Middlebury (so much so that US 20 itself got moved). Communities which in memory were separated by miles of farms are now rubbing subdivisions against.each other.
If you haven't been back in a while, the changes on the Northridge-Middlebury campus are just as striking. When I first looked south from Heritage toward US 20 in 1976, I saw nothing but green*, tumbling down a long gentle slope toward a two-lane highway and the Essenhaus. Bit by bit, the open expanses have been chewed up by pavement and masonry--new roads (Heritage Drive and Raider Drive), new parking lots, new tennis courts, and now a new high school. There's not much left of the Big Green Hill. I wonder where the rocket club launches now, how many species of trees today's sixth graders can find for their leaf collections, how much biological diversity a seventh grader can find on a tennis court.
I have no standing to be grumpy about these changes. Life is motion, and we rail against that reality at the risk of sounding foolish. Still, I think it's a shame that the Heritage name, colors, team identities and history couldn't change buildings along with the students. After all, Northridge's will. From what I read in The Elkhart Truth, the decision was made without much angst. But in the rush to rationalize the sales of Northridge Raider booster apparel, I think--for a moment, at least--the decision-makers lost sight of the principles on which the middle school movement was founded.
Middle school is not high school in miniature. Transescents are entitled to an education and an identity which are predicated on their needs and experience, and don't depend on borrowed pride. That's why Middlebury built Heritage Middle School--and not Northridge Junior High--in the first place.
Regardless, the clock is winding down. I contacted Heritage's current principal, Robby Goodman, and asked if any sort of 'closing ceremony' was planned. "We have decided to combine the celebration of Heritage Middle Schools past in conjunction with the celebration of the opening of the new chapter that is Northridge Middle School. A community event is in the infancy phase of planning at this point, but will happen in either August or September this year." I'll post an update here when and if I hear more.
--first posted May 10, 2008
*Okay, so one flat patch was mowed and striped for football, and beside it there was a little shed in the shadow of an enormous oak tree. But the football field was unfenced, and didn't really interrupt the carpet of green.
---
A Survivor's Memoir
by "Mr. Kube-McDowell"
It's never stopped being disconcerting to contemplate how much time has flown by. I came to Heritage straight from the Michigan State campus, and took my leave seven years later when the birth of my first child was imminent. The plan was that I would take a year's "paternity leave" to try my hand at writing and being daddy-at-home, and then we would see.
Within a month, I had a contract with Berkley for three science fiction novels. By the end of the year, I had an agent and, on the strength of the first of those manuscripts (Emprise), I had a future that lay along a different road. Though I still think of myself as a teacher, I haven't had a classroom to call my own since 1983.
Time. My eldest child is a grad student at Purdue University (studying aerospace engineering), and his younger sister is in middle school. The eighth graders of my first year at Heritage (the Class of 1981) are old enough to have children of their own in college. Even the youngest students I ever stood before at the demonstration table of Room 7 have had enough time to accumulate college diplomas, wedding albums, baby pictures, tragedies, triumphs, frustrations, and adult misgivings about the choices they made.
Time. Today's eighth graders, like my son, belong to the post-Apollo, post-Watergate, post-OPEC cellularNintendocableMTVpersonalcomputerInternet world--the first class of neoadults who will come of age in the 21st Century. All of the wonders of my growing years are unremarkably commonplace in theirs. All the wonders of their growing years pile one atop the other so swiftly that miracles seem to lose their magic luster, and we impatiently await fulfillment of our runaway expectations. It'll be interesting to see what they, and we, will make of Tomorrow.
Time. The last few of the teachers I worked beside are slipping into retirement. I'm not sure there is anyone left in the halls of Heritage who would know me.
But for the moment, I'm thinking of yesterday--of the rocketry club, burning peanuts, science fairs, leaf hikes, sectionals, fossil hunts, slide shows, faculty-student basketball games, the first Space Shuttle launch, four-square and euchere, MSU over Notre Dame in the '79 NCAA Tournament, sci-fi movie night, Life On Earth, King Phillip Came Over From Germany Soused, the not-quite-behind-the-scenes creation-evolution battle, the revolving doors in the music department and the counselor's office, flag football, belly dancers and lawn-tractor pulls at the summer festival, the school system's first computers, Cosmos, the faculty's first photocopier, looking for my students' names at the 4-H county fair, and most of all the joys of working with the "tweenagers" whose minds were hungry and whose horizons were expanding--and the frustrations of working with those whose minds were closed and whose ears were teacher-deaf.
In those days, at least, Middlebury was a community with short horizons, a one-stoplight town little removed from a 1950s movie or a 1930s Norman Rockwell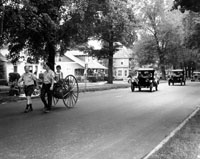 magazine cover. Intensely tribal, determinedly traditional, classically rural, it rewarded conformity and unconsciously reflected the Amish/Mennonite subculture's suspicion of change and the wider world beyond. As a socially-liberal free-thinking and free-hugging agnostic humanist and scientific rationalist, I was a stranger in a strange land there, an amateur anthropologist on an extended survey of a largely alien culture. I found very few members of my tribe while I was there, and the culture shock was occasionally jarring--my graduating class alone at Michigan State outnumbered the population of Middlebury by four-to-one or better.
And it was puzzling and discouraging when I did encounter people who might have been friends but found that--being so tightly woven into such a stable community--they already had all the friends their lives could accommodate. In a real sense, my best friends in Middlebury were my best students, and I regret losing touch with so many of them when I moved back to Michigan in 1986 (and then let the unbroken ties weaken and unravel while I was distracted by the task of reinventing my life after a divorce). Without the chance meeting in the mall, the occasional visit to the faculty lunchroom, the inside pages of the local newspaper, the odd letter or phone call, and my work as a stringer for the biggest county daily, I lost my chance to learn what sort of life stories my students were writing for themselves.
What became of Judy Fuller, Valerie Eash, Laura Yoder, Melanie and Laura Schrock, Al Robinson, Greg LaRue, and the hundreds of others whose class schedules read KUBE-McDOWELL, SCIENCE, ROOM 7? Who escaped to a wider world, and who came back once they'd had a good look at it? Who went on to college, and what passions did they discover there? Who stayed on home ground, and who do they answer to on Monday mornings? Who married well, and who lusted unwisely? Who defied their parents, and who became their parents? Who took the road less traveled, and who took a wrong turn on the way to their dreams?
Such answers as I have or discover may become part of this remembrance, this memorial, this meeting-place--preferably in the words of the survivors and refugees themselves. The Internet has already brought me back in contact with a score of former students, and I hope and expect that there are more out there in cyberspace to be found. Perhaps not many more, but at least some--and until today's Heritage creates its own home online for yesterday's students, this page will be available as a stopover. I hope that the memories it brings back are good ones.
--first posted 1995; last updated August 2007
---
Thanks to a borrowed slide/film scanner, I'm in the process of digitizing all my photos from my Indiana years. In the hope of reaching former students, their parents, their children, or their friends who might never trip over this little web site, I've begun to upload my Heritage photos to Flickr. They can be viewed here:
http://www.flickr.com/photos/8005764@N03/sets/72157600318459737/
If you see someone you know, please pass the word to them!
Rod Sutton & Kea Hankins, '84
(Cadiz, KY)
Deborah (Bentley) Dean, '86
(Kansas City, MO)
Anthony "Scott" Dunlap, '81
(SW Florida)

Tracey Ragsdale, '88
(Lagrange, IN)
Michelle Weaver, 84
(Alaska)
Monte Weaver, '83
(Mentone, IN)
Alan Bannister, '86
(Georgia)
Kelly Woodhams, '88
(West Palm Beach, FL)
Robin (Lee) Hood, '89
(Rhode Island)
Susan (Irelan) Hochstedler, '84
(Elkhart, IN)
Brian Kilmer, '87
Valerie Eash (Cox), '83
(Elkhart, IN)
Kathy Schueneman (Christensen), '84
(Switzerland)
Tom Hellinga, '84
(Bremen, IN)
Sheldon Wise, '84
(Tampa, FL)
Gregory Sevison, '81
(Elkhart, IN)
Rodger Yoder, '83
Patrick Weybright, '85
Michelle Petersheim (Briggs), '86
(Grand Ledge, MI)
Mike Ward, '81
(Georgia)
Gary Hile, '81
(Washington, DC)
Matt Forthofer, '89
(Clermont-Ferrand, France)
Kristin Puckett (Hall), '85
Kim Weaver (Christner), '83
(Middlebury, IN)
John Fowler, '86
Jeff Lemmon, '86
Amy von Gunten (Clemens), '87
(Maryland)
Andrew Straw, '87
(New Zealand)
Todd Baughman. '88
(Raleigh, NC)
Brian Keck, '88
(Greenville, SC)
Bruce Buller, '82
(Breckenridge, CO)
A. Dean Yoder, '81
(Denver, CO)
Eunice (Martin) Leide, '88
Mike Ingold, '86
Chris (Mondich) Miller, '87
Thomas L. Williams, '84
(New Albany, IN)
Tina Ann Tinch, '83
(Netherlands)
Monica Strawser (Malate),
'81 (Oak Park, IL)
Jennifer Cook, '88
Kristen Puckett (Hall), '85
Melanie Schrock, '85
Darin J. Yoder, '84
(Indianapolis, IN)
Melissa (Missy) Huber, '84
(Lansing, MI)
Jodi Bloss, '84
(Indianapolis, IN)
Jody Miller, '87
(Goshen, IN)
Joel Carlin, '87
(Charleston, SC)
Bruce Smucker, '86
James Galt, principal
(Indianapolis, IN)
Jeanne Kelley, guidance
Tony Hurst, science
---
---

In Memoriam
Michael J. Tarr, '81
(28 Sep 1962 - 16 Oct 2003)
Todd Bontrager, '83
(29 Mar 1965 - 12 Mar 1984)
Wayne Yoder, '83
Eric "Bill" Vollman, '84
Wendell Bontrager, '86
(dec. 3 Mar 1985)
Marcus Hershberger, '86
(dec 3 Mar 1985)
Greg Estridge, '88
(dec. Jan 2002)
Ross C. Goebel, '88
(17 Aug 1970 - 09 May 1996)
Lynn Lamirand
(1945 - 1982)
Dorothy McCammon
(1923 - 1997)
Heritage Middle School
(1976-2008)