THIS SITE PROTECTED BY AREA 19 SECURITY
WEAR YOUR I.D. AT ALL TIMES
---
Tomorrow morning,
all the guns will stop working.
What will happen tomorrow night?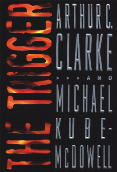 Legendary visionary Sir Arthur C. Clarke (Childhood's End, 2001: A Space Odyssey, Foundations of Paradise) and New York Times-bestselling author Michael P. Kube-McDowell (The Quiet Pools, Emprise, The Black Fleet Crisis) join forces for a stunning, sprawling sociological and technological speculation on a subject as timely as tomorrow's headlines.
A major SF novel of the near future,
bridging the generations in the world of science fiction:
THE TRIGGER
by
Arthur C. Clarke
and Michael Kube-McDowell
HarperCollins Voyager Hardcover
November, 1999
ISBN 0-00-224711-9
Bantam Spectra Hardcover
December, 1999
ISBN 0-553-10458-6, $24.95
Science Fiction Book Club Editor's Choice
January, 2000
Catalog #171918, $12.50
Spectra Paperback
September 5, 2000
ISBN 978-0553576207, $7.99
RosettaBooks Kindle Edition
November 30, 2012
ASIN B00AHKJGDU, $7.99
Named to the "Books For The Teen Age 2000" recommended reading list
by the New York Public Library, March 2000.
"The combination of Clarke and Kube-McDowell works extremely well…This book is what
near-future SF should be: clever, thoughtful, thrilling, and human." – Infinity Plus
"Reads as both a technothriller and an exploration of the influence of science and technology
on social change….Together, Clarke and Kube-McDowell realize the book's
scenario very plausibly, so that engaged readers will certainly keep turning pages.
This is solid, intelligent, serious entertainment." – ALA Booklist
"Clarke and Kube-McDowell work through the pro and con arguments over the possession
of guns…with care and research evident in every debate as they skillfully assess the tricky
territory between individualism and collective trust. The authors are savvy enough never to
choose easy answers… the unpredictable effects of the Trigger lend the familiar issue of gun
control new urgency and excitement." – Publishers Weekly
"While in the past Clarke's books have been almost totally devoid of violence, here is a direct
confrontation with the subject. The flashes of humour, the sharp dialogue and political intrigue
will be more familiar to readers of Michael Kube-McDowell's Alternities and The Trigon Disunity.
However, the result of this collaboration is an epic thriller." – Gary S. Dalkin
"The Trigger seethes with the same moral and social delirium we're already experiencing…It's
extremely rare to find a novel that works on so many levels at once–it excites the imagination
but also captures the substance of the ethical dilemmas that affect the entire world." –Tom Piccirilli
 Timeline: Manuscript accepted by Bantam, August 1998
UK subrights sold to HarperCollins, January 1999
German subrights sold to Heyne, March 1999
Revisions completed, April 1999
Copy-edited manuscript proofed, May, 1999
Galleys proofed, June, 1999
HarperCollins Voyager hardcover published November, 1999
Bantam Spectra hardcover published December, 1999
Science Fiction Book Club Editor's Choice, January, 2000
Bantam Spectra mass market paperback published September, 2000
RosettaBooks Kindle edition published November, 2012

About the differences between the US and UK editions
The Trigger International Cover Gallery